filed in Sports on Nov.08, 2005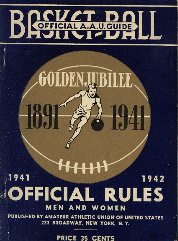 I heard a story on the radio last evening while driving home. The two radio personalities (can they really be called 'Disc Jockeys' anymore?) were poking fun at a high school basketball team who had recently lost a game. The score? 112-2
The two high school teams in question were the Earlsboro Wildcats (112) vs. the Hanna High School (2) basketball team. [MSNBC article]
The details of the game are a little scary too…
The Wildcats led 42-0 after one quarter and 73-2 at halftime. Walling pulled his starters in the second half, and game officials kept a running clock, stopping it only for free throws.
Walling, the winning coach, is quoted as saying, "It was embarrassing to watch…you can't just tell your kids not to score. I've been coaching 27 years and have never been involved in something like this."
Questions for YOU:
At what level/grade of school athletics should a Mercy Rule exist?
Will a blowout like 112-2 scar these young ballers from Hanna High forever?
Will they have a warped sense of sportsmanship?
Who should have been responsible to ask for the game to be called early? The coaches? Refs? Parents? Players?
Should the coach have pulled his starters earlier than halftime?
Do you think mercy rules even have a place up to and including professional level sports?
In my opinion, this matchup should never have happened. I don't fault the winning team for playing their best and winning. Either these two teams belong in different conferences, or the losing team's coach is not preparing his team properly to compete in actual games. If it is the latter, the coach should be replaced immediately. I think someone should have envoked a mercy rule and called the game early.